EOS Candy Grey Review!
EOS Candy Grey on light eyes! Circle Lenses are the best way to create cute, anime like eyes! This time I will review the EOS Candy Grey! Since I lost my only pair of grey circle lenses, I wanted to buy new ones that have a nice and big black circle.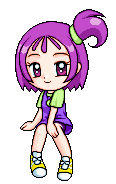 When I ordered them my only worry was that the color isn't covering my natural color. I ordered similar ones in pink and violet before, Vassen Sakura Candy Pink & Violet, but they were barely covering my natural color. Let's see how they look like!
The pattern is only light grey colored, but the circle has a bold black color.
Somehow they look blue in here, right??
Detail: Without any filter in normal daylight! Now they look more grey.
Sorry for the messy mascara, I had a shaky hand that day..
It's normal that you can see some part of the natural eye color, but in my opinion these lenses are really covering less than other lenses I have. Better than the Vassen Sakura Candy ones, but still. Even though they are grey, my eyes always looked blue when I took some pictures (like the one above) with my phone in daylight.

EOS Candy Grey Review
What I love:
The Effect – The bold black circle make your eyes look like cute anime eyes! The pattern gives a "colored eyes" effect! They have a 14,5mm diameter.
The Comfort – They are really thin and soft, I can barely feel them!

The Color – Actually they should be grey. But they rather look like blue on my eyes in the sunlight due to the less coverage. It's rather a negative aspect. Still it's so nice how the color melts with the natural color!
What I hate:
The Price – They're a bit more expensive than others I bought.
Nya…. still I like them. I have love for all lenses lol. Just it's weird that the lenses look blue every time I took pictures in the sunlight. Blue or grey, they look so cute! I wonder how brown eyes look with them?

In the last pic they finally look like grey! ( ´ ▽ ` )ノ やった〜
For those interested in buying: I ordered them on PinkyParadise.com! As always I got some cute lens container with them!
Thank you for visiting! If you don't mind, have a heart and press "Like" above~ would make my day! (((o(*゚▽゚*)o)))