Geo Holicat Barbie Hazel Review for you!
It's been a while already again! I successfully spend all my money in Tokyo during my holiday together wit my best friend and my sister and I am back with a new circle lens review!
I don't know if anyone would be interested in a post about my trip in Tokyo?
One thing I loved about Tokyo is the fact that you're not the only one running around with circle lenses.. Sometimes if I am wearing lenses in Germany people look at me like if I was an alien.. ? Whatever..
Just now I realized, that I gained 2 kg…


I will start another diet tomorrow I guess… haha.. But back to business!
This time I will review the Geo Holicat Barbie Hazel which a wanted to try for a very long time! Finally I got them from yesstyle.com.
The big difference to my other lenses is that they are monthly contact lenses and have to be disposed after one month with good care. They also were a bit more expensive than the other annual lenses, it took me some time to decide wether to buy them or not. I thought I will have to wear them a lot after opening the package, I was worried that I don't like the color or they would be uncomfortable.
The package is also different from annual contacts, it's a plastic package instead of a glass container. That's actually pretty good because I tend to cut myself… Contact junkies will know the pain.. I expected the lens to be a bit thinner or have a higher water content because they are monthly lenses, but there's actually no difference to annual lenses.
The print is covering my natural eye color very good and I like the beige brown color. They have a black, not too thick circle that enlarges the eyes a bit. I was wondering why the color was called Barbie Hazel because Barbie has blue eyes… Let's not care about it. I think they just don't suit me, maybe not my style, but I think they would look very nice with darker glam rock or gyaru makeup.. Nothing for a cute doll look. But that's just my opinion.

I wore them during my trip in Tokyo and in general I wore my lenses much longer than recommended. I wore them about 10 hours or more everyday, 3 hours longer than you should wear circle lenses. One day I also wore the Geo Holicat Barbie Hazel around 9 hours and I have to say they were really comfortable. Of course after 7 hours they got a bit dry, but except for that, no itchy feeling.
Let's take a look at my résumé!


What I love:
The Coverage – the print covers my blue eyes perfectly
The Effect – gently enlarging the eyes with a

14.5mm Diameter

The Comfort – even after a long day!
What I hate:
The Color – I think the color doesn't suit my skin tone.
The Price – a bit expensive for just one pair monthly lenses
The Disposal – after one month already..
If you want to create a dolly cute look, I wouldn't recommend these lenses. If you want to create a darker gyaru glam look I think these are really good.



Here I am wearing the Geo Holicat Barbie Hazel:

I visited the Rilakkuma themed café at Tower Records in Shibuya! ^-^
If you want to know what I did during my stay in Tokyo, don't hesitate and comment :)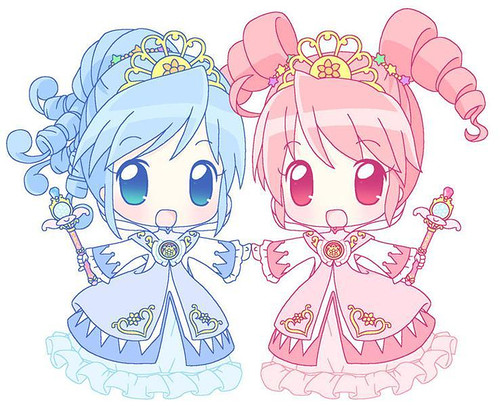 Until next time! ^_~